Guest, due to an issue with the agelock we had to redo the whole system, if you did not get your access yet, please wait up to an hour to receive it, if you haven't still gotten it afterwards, please PM dopy.

Dismiss Notice

Using yahoo mail? Some of you have been flagging us as spam, hence mails sent to a yahoo email account will no longer be delivered for an undisclosed time. Please consider using a different email host if you really need those emails.

Dismiss Notice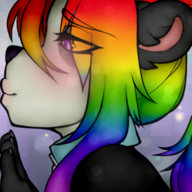 Joined:

Sep 30, 2016
Messages:

43
Likes Received:

46
Trophy Points:
Gender:

Female

Birthday:

Dec 22, 1990

(Age: 26)

Home Page:

Location:
Pandah
ღ The Queen Yandere of FurryPile ღ, Female, 26, from Savannah, GA
Νεχ ποσσυμ τεχυμ ωιωερε, νεχ σινε τε. Oct 5, 2016
Loading...

Loading...

About

Gender:

Female

Birthday:

Dec 22, 1990 (Age: 26)

Home Page:

Location:

Species:

Panda

About me and commission info below.






I'm a gamer and I love to read, watch anime, draw, cook plus generally just hang about in the chat. Talk to me if you wanna learn more about me!

I'm demisexual with a STRICTLY straight preference.
I do not have interests in females nor vore, scat, watersports.. Stop asking. Every piece of art I take commission for is done with bases and as such I charge dirt cheap for what people charge 80 - 100+ dollars for.
Even the ones you see that are my personal reference sheets and icons are all from a base..
I use bases from:
Waitress
Myett Wrath
Jackalope/Popcorn Panic
Mixideer
and many more!
I can easily mix and match my bases to give me ultimate range of customization!

T

his information is also readily available via my FA.


If you have a problem with it then you can freely move on and not commission me since me buying the lines makes me allowed to utilize them for commissions via the creator.


Prices:

Icons: 15-20

Chibi: 20
Outfit ref: 30-40
(One chibi with details, other chibis mannequin style, likes optional, description optional)
Mini ref: 40-50
(Front view, likes/loves, description. Outfit 5 dollars extra)
Ref sheet: 60-70
(Front and back, or front + outfit, likes/loves, description, two outfits. Extra outfits 5 dollars extra)

My ToS is simple!



All sales are

final



I try to get my art to you in a very timely manner and to what specifications I was given!

If you give me details with no other specifications, expect me to "wing-it" and just use a text based system, I ask questions for a reason and "surprise me!" isn't good enough.

However, I'll refund if I am UNABLE to complete it due to personal RL issues.

I will not however endure verbal abuse or defamation of character due to person issues not related to the commission,

it will not get your money back and I can refuse you service!





I'll give WIPs if asked, if not asked then I won't think to.



Art takes time, don't rush me and be rude or your art will be pushed back, I generally have it to you within a week unless reasons are making it slower which I will keep you informed.
This information comes directly from my FA and I am not responsible if you're too lazy or make up excuses not to look at them.

If you don't like my ToS then don't commission.






Interact

Signature

If you are ever in trouble, just call that gal.
To this playground encircled by transmission towers,
a hero of justice, with a fuzzy sense of good (white) and evil (black),
will surely arrive, holding a metal baseball bat in her left hand.

​

There are no Gamer Cards on Pandah's profile yet.

Pandah does not have any items.

Loading...