Guest, due to an issue with the agelock we had to redo the whole system, if you did not get your access yet, please wait up to an hour to receive it, if you haven't still gotten it afterwards, please PM dopy.

Dismiss Notice

Using yahoo mail? Some of you have been flagging us as spam, hence mails sent to a yahoo email account will no longer be delivered for an undisclosed time. Please consider using a different email host if you really need those emails.

Dismiss Notice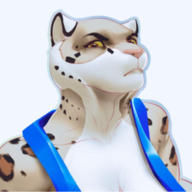 Last Activity:

Sep 11, 2017
Joined:

Nov 16, 2016
Messages:

33
Likes Received:

49
Trophy Points:
Gender:

Female

Birthday:

Mar 9, 1997

(Age: 20)

Location:

Occupation:

Infantry Soldier
Samurai Kai
Member, Female, 20, from Canada, BC
I am but a blade in the crowd. May 4, 2017
Samurai Kai was last seen:

Sep 11, 2017
Loading...

Loading...

About

Gender:

Female

Birthday:

Mar 9, 1997 (Age: 20)

Location:

Occupation:

Infantry Soldier

Species:

Snow Leopard

Hello there, reader! I go by Samurai Kai because, well, that's what my fursona is! It use to just be Kai but I noticed there were more Kai's than I realized and decided to give my fursona more character, AND a profession. Her name is based off my real name, Kailyn, but shortened. Lovely ring to it, ain't it? I've been a furry since maybe about 2009, but I'm not all that "into" it like a lot of people are. I do share a few traits with the snow leopard like being solitary, mysterious and elusive. Kai is mostly just her own character. I do have some of her personality traits like being strong, courageous, respectful and compassionate, and having zero tolerance for disrespect. I'm also a bit of a gamer and I am seriously obsessed with Mass Effect, Dragon Age, and Assassin's Creed. I spend most time by myself if I'm not hanging out with friends or gaming with them, as well as improving my physical fitness and looking for ways to. I graduated high school in 2016 so now I'm aiming to join the Canadian Armed Forces as an Infantry Soldier and possibly an Infantry Officer later on in my career if I am adequate. Thanks for reading!


"I may wander with no Master or the guidance that comes from one, but I still know my obligations without. Nothing will sway me from the Way."

Name: Kai Shiro

Species: Snow Leopard

Height: 5'9"

Age: 23

Weapons of choice: Katana, wakizashi and tanto.

Her voice is exactly that of Jane Shepard's from the Mass Effect games.

Likes - Warriors, philosophy, compassion, affection, her small circle of friends, companionship, respect, helping others, solitude, snow, mountains, flowers, jewelry, swords, running through forests, food, exploring and hiking.

Dislikes - Liars, disrespect, bandits, tyrants, fake individuals and those with a lack of honor.

Temperament and sociability - INFJ.

Kai Shiro is a lone snow leopard warrior who searches for a way to redeem all that was lost due to her mother's death and the destruction of their ancestral home. She blames herself for not being strong enough to stop the events that happened at the time, she was very young. Kai hopes to one day achieve a form of peace and justice for all that was taken from those who lived there and to restore a balance that was once within her family, not just her own. Despite having quite the intimidating appearance Kai is most compassionate and respectful to most, a possible trait inherited from her own mother. At times, this snow leopard can be a little cocky, but that is totally understandable especially coming from a feline such as herself, not to mention she is still young... that includes stubbornness. It isn't always good for her. When in conflict, the snow leopard can have difficulty backing down, even when she probably should, boldly displaying her opposition to others. Although a good trait to have, it doesn't always do her well. Quite the opposite, actually. It would be a lie to say she has never gotten herself in trouble due to having the persistence of a stubborn Ox. Those who are able to look past flaws such as this will know she means no true harm. She also takes quite the pride out of showing others, especially her male rivals that she is quite capable of fighting and also loves going out of her way to prove that she isn't some type of damsel in distress who needs a knight in shining armor to come save her. Though, the possibility of a companion is a nice thought to her, maybe not for a rescue... but for company. It can get lonely on patrol days! Not that type of lonely.

EVENTUALLY...

Kai achieves what she had sought to, and becomes the savior of her home, Hisakawa. Restoring peace and bringing honor upon the land and their home. She wasn't just any simple Samurai after that, she turned out to be so much more. She became a well-known and respected warrior across the lands after vanquishing the cruelty and tyranny of her own father who very much abused and misused the power that he firmly held with the creation of a corrupt army such as his, but she did not stand alone on her quest to take him down, for she had many friends and followers who stood behind and dared to take the pledge to restoring their home by any means necessary, and so they did. Her mission was finally complete, and upon such completion everyone celebrated that victory. Inner peace had been achieved for all. Some even say that the Samurai achieved a form of her own. To her, she just put the beast to sleep.

Interact

Signature

There are no Gamer Cards on Samurai Kai's profile yet.

Samurai Kai does not have any items.