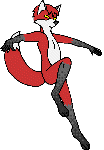 4 October 2016
274
65
28
67
Species

Vulpan
Gender

Male
Slow day and I just purchased another supplement for the Starfinder RPG, a sci-Fi extension to the Pathfinder Fantasy RPG (based on Dungeons & Dragons 3.0). It hit me how many player races, both native to the now lost world of Golarion and from many interstellar worlds, are definitely anthropomorphs.

Brenner (Otter folk), Dragon kin (Dragon), Espraksa (Avian folk), Hanakan (Raptor folk), Ikeshti (Lizard folk), Morlamaw (Walrus), Nuar (Minotaur), Osharu (slug), Pahtra (cat folk), Shirren (insect), Telia (Turtle folk), Uplifited bear, Vesk (lizard) , Vlaka (Wolf folk) and Ysoki (rat folk).

Strangely, the Ysoki survived the disappearance of Golarion while the Catfolk and Tengu did not (they are races in the Pathfinder RPG).

Makes Starfinder a very fur friendly roleplaying game, While most are not available for official Starfinder Society play, home campaigns can feature any and all making for a diverse and exotic play groups.

Anyone play either Pathfinder and/or Starfinder? If so, furry characters a favorite choice?