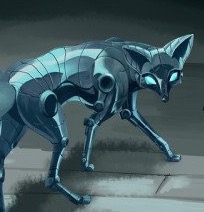 18 October 2019
23
0
1
Species

red fox
Relationship status

In a relationship
Gender

Male
I've always loved
werewolves
, and frankly would love to be one. I was thrilled therefore to see werewolves featured in a Season 1, Episode 2 segment of the new
Creepshow
series titled,
Bad Wolf Down.
Now
Creepshow
is based on the Stephen King/George Romero movie of the same name from 1982 that transitioned comic book horror stories into live action tales. It's been revived for a limited run series by
Shudder
, and is a knockout! The episode I reference plunges us into a furious firefight between American troops and Nazis in World War II. All but decimated, four surviving Americans seek sanctuary in an abandoned building in which a
female werewolf
is found locked in a cell. She only wants to seek death by swallowing a cross around one of the servicemen's necks, and they grant her this wish provided that she bite each of them. They accommodate her and she them, leaving American soldiers capable of werewolf transformation who are more than a match for the elite Nazi troops converging on their position...
The gore fest which follows is not for the squeamish, but the werewolves are wonderful, and it's always great to see them in action! Check out the new limited
Creepshow
series if you can...
two paws up!